Jossy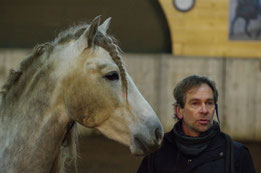 I was born on April 25, 1963.
Ever since my childhood I am passionate about horses and followed the example of my father, and at sixteen I was a show jumper.  As a child had dreamt of a horse in an open plain, galloping in complete freedom, without bridle, without saddle.
The aspect of "winning" and everything around prevailed above the comfort of the horses. Later my daughter brought me back to my dream. Since then I started to approach horses from a different way and began to ride without a bit. 
Since 1993 I searched and looked for the answers for all my questions about natural riding, and I discovered some beneficial factors such as food, language, prey and herd instinct. Since 2000, I have had my own business where I coach horses and riders.
Since 2000, I have my own business where I coach horses in a natural way.
Since February 2013 I became a Bent Branderup ® trainer.
Pascale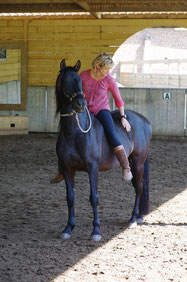 I was born on November 7, 1967.
For a long time I have been fascinated by horses. I always found them beautiful, graceful creatures and yet so impressive and powerful. I had several teachers and everywhere I have learned something. But Jossy is my greatest teacher enabling me to grow step by step building up my confidence. I had never known bodylanguage before and now it is a part of my life. You get a bond and connection with your horse. Also focus on your horse that otherwise would never exist.
I know I still have a long way to go and I enjoy it while I walk the road.
The administrative part, organizing and monitoring workshops or other events are part of my "package" within Bitless-Art-of-Riding.com and Jossy-Reynvoet.com.
I want to travel as far as I can go,
I want to reach the joy that's in my soul,
And change the limitations that I know,
And feel my mind and spirit grow;
I want to live, exist, 'to be',
And hear the truths inside of me.
Doris Warshay