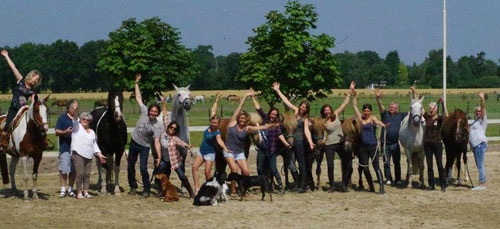 Once a year we organise a workshop/holiday combination in the Netherlands. The region is called the "Veluwe". We rent a beautiful location. 
These are the dates for 2018:
09/07 until 15/07: group 1
16/07 until 22/07: group 2
 
Approximative schedule for almost every day of the week:
07h00-09h00: possibility to take breakfast
09:00-13:00: 8 riders get their individual lessons
13:30-15:00: we eat all together
15:00-16:00: 1st outside riding for beginners or unsure people or young horses 
17:00-19:00: 2nd outside riding for people who feel comfortabel with the 3 gates
20:00 until....: dinner 
Nobody is obliged to do something. We propose you a schedule. You can watch the other riders or you can read a book, or take a nap or do something else. As you wish! If you don' want to go for a walk in the afternoon, you don't have to.
It is your holiday!
Contact us if you would like more information.